New 'mate' at the helm, industry survey open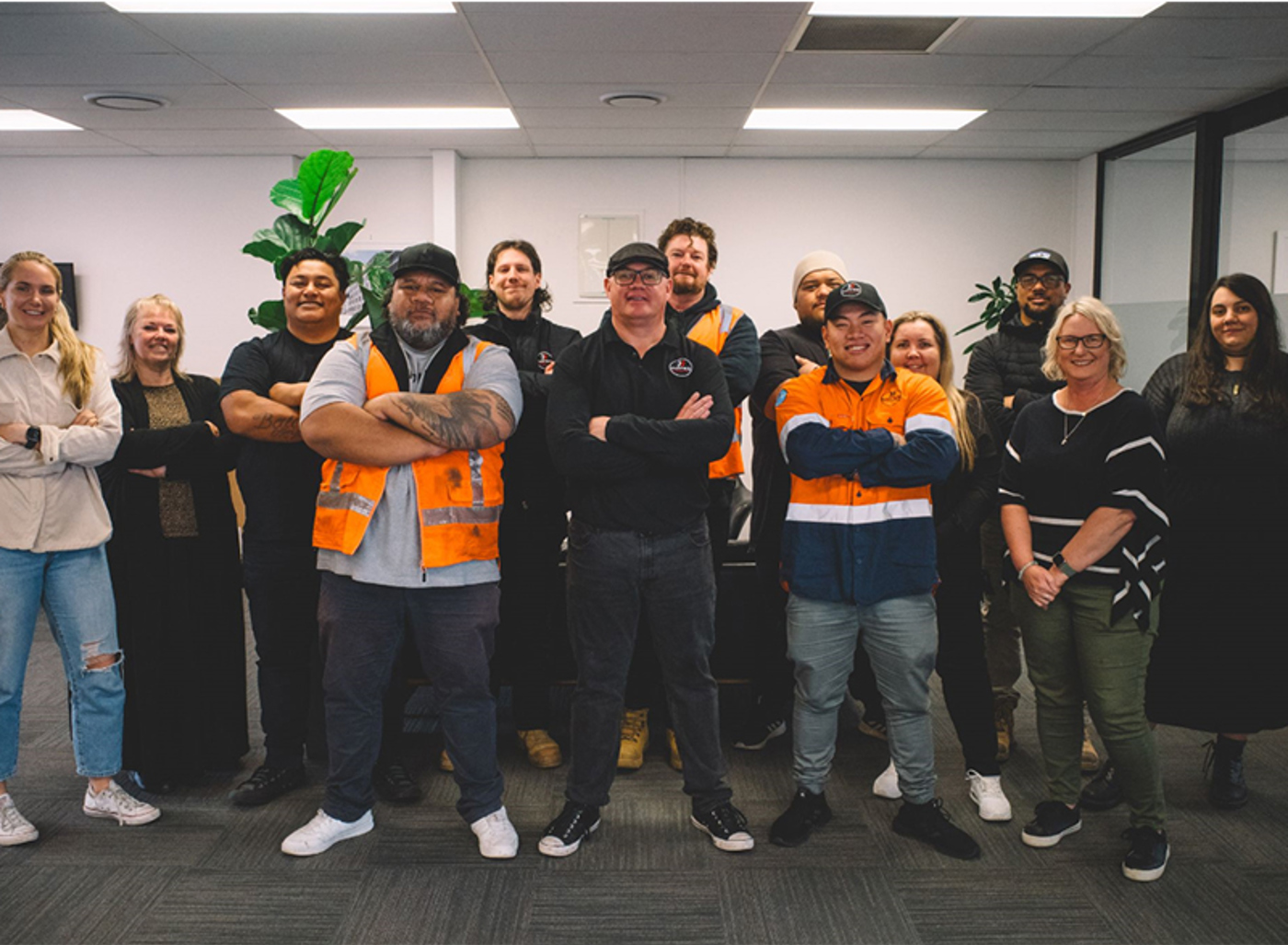 Kiwi construction sector suicide prevention charity, MATES in Construction, announces a new CEO and asks builders to take time out to complete its annual industry wellbeing survey.
Mates in Construction, the Kiwi charity that focuses on suicide prevention in the building sector, has announced it has a new CEO at the helm. John Chapman, pictured centre, has been appointed Chief Executive Officer of MATES in Construction New Zealand after serving as acting CEO since May this year.
John joins MATES with a diverse background, professional experience and set of skills, said the charity. Born in Wellington and raised in East and South Auckland, John is of Irish and Māori descent - Ngāti Tūwharetoa, Te Whanau Apanui and Te Whakatōhea.
He ventured into the trades after secondary school, beginning his working life in turf grass, concrete/paving, and building. Fast forward a few years and after a spell in Canada playing and coaching rugby, John started his journey in sports admin with Sport Manawatu and, a couple of years later, became CEO of Horowhenua Kapiti Rugby Football Union. 
He has since forged a professional pathway into business, management and decision-making roles within education, youth and community development, spanning NGO, public and private sectors. But one of his proudest achievements, is his time in grassroots Alternative Education Programme Management in the Horowhenua and Wellington Central.
"Assisting and supporting young people develop and grow is something I am very passionate about," said John.
MATES Chair Dan Ashby said, "John has quickly made his mark on the organisation, with his fresh style and approach being well received by the team." 
Father-of-two, John is co-chair of Waihanga Ara Rau Construction and Infrastructure Workforce Development Council, a business owner and co-director of KAEA. He is also a proud armchair sports critic, rugby coach and keen fisherman.
"He honore māku tēnēi, this is an honour," John said. "I am humbled to hold this role and uphold the vision of such an important kaupapa (purpose). Suicide has affected many of us in different ways and I do not hold this responsibility lightly. I am joining a great team of people and I anticipate achieving much together. It will take all of us to achieve that."
Meanwhile, the MATES Industry Wellbeing Survey 2023 is live! Running from Tuesday 24 October – Friday 10 November the confidential nationwide survey seeks to understand the mental health of our construction industry workers – that's YOU!
This helps target MATES trainings and supports to the needs of workers and enables the charity to continue advocating for the wellbeing of the Kiwi construction business owners, employees, and contractors.
"We want to hear all construction industry workers' voices, from apprentices and boots on the ground to management- and corporate-level; site-, home-, and office-based workers from small family-owned two-person operations to workers at large corporate-entities, merchants, and industry bodies; and right across Aotearoa," said a MATES' announcement.
The online survey takes five minutes to complete. Please click the link below to let MATES know how you're tracking. Note that this survey asks questions about mental health and suicide, which could be upsetting.
If you or anyone you know needs help, please call 0800 111 315.