Our bi-monthly Trader Leader is all about keeping you up to date with compliance on and off site. You'll also find expert business advice, market information and overviews of where the industry is heading. If you're a Licensed Building Practitioner, reading the Trade Leader counts as elective learning for LBP points.
Read the articles online, view the magazine here or pick up a copy at your local CARTERS branch.
VIEW LATEST ISSUE
Share with us!
We'd love to hear your feedback on Trade Leader articles, see photos of unique jobs you've been working on and discuss any industry related news. You can email us with your stories at marketing@carters.co.nz. 
TRADE LEADER ARCHIVES
Previous issues are available below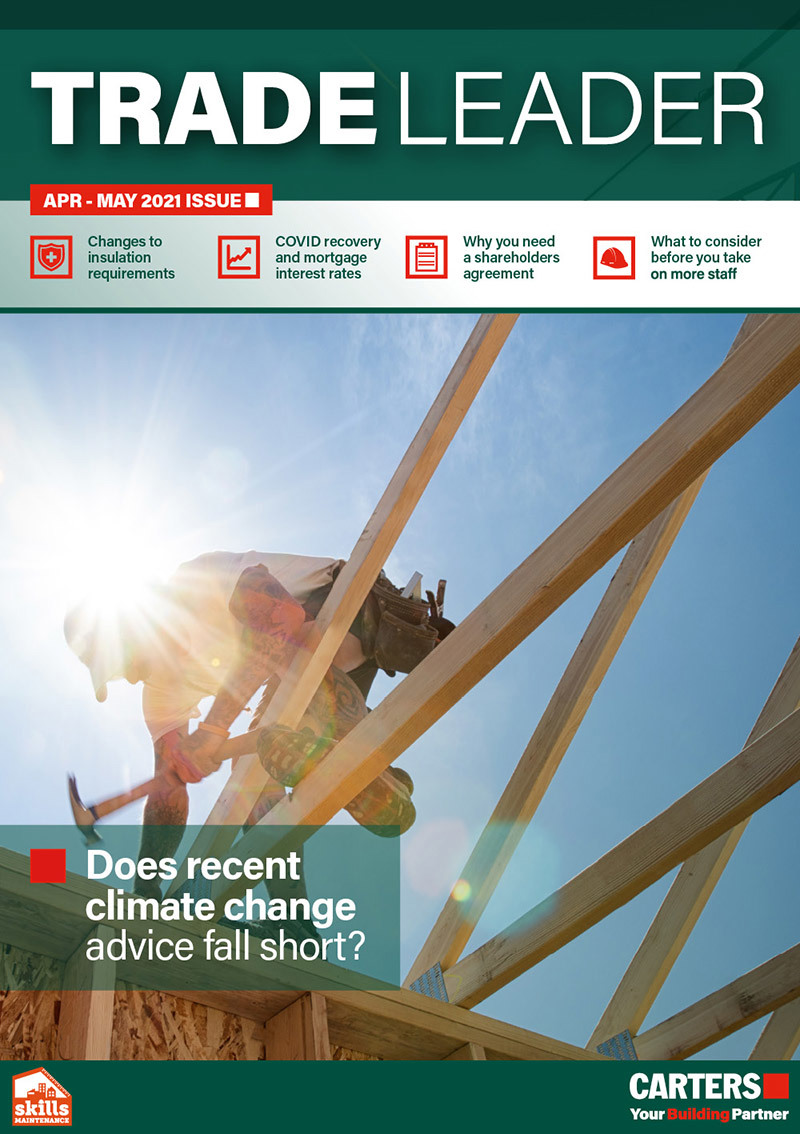 April - May 2021
Key highlights
Changes to insulation requirements

COVID recovery and mortgage interest rates

Why you need a shareholders agreement

What to consider before you take on more staff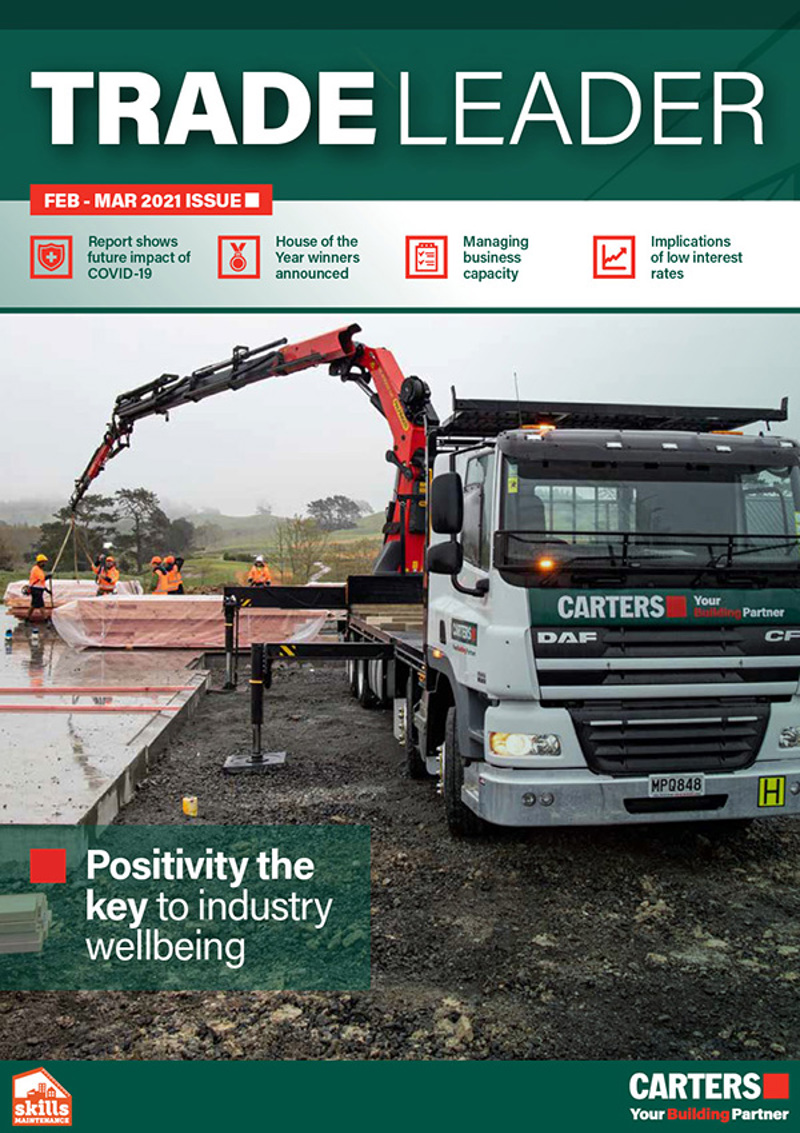 February - March 2021
Key highlights
Report show future impact of COVID-19

House of the Year winners announced

Managing Business Capacity

Implications of low interest rates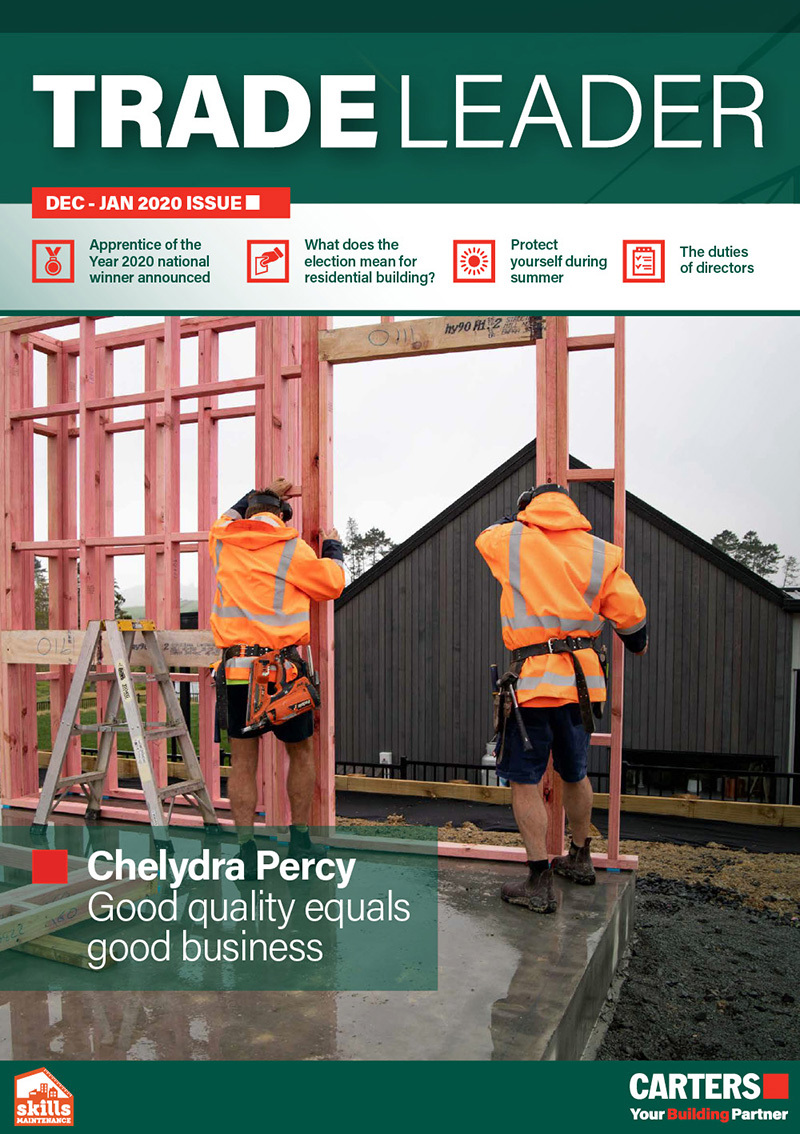 December 2020 - January 2021
Key highlights
Apprentice of the Year 2020 national winners announced

What does the election mean for residental building

Protect yourself during summer

The duties of directors
CARTERS & Human Interest, reserves the right to accept or reject any editorial or advertising material. No part of CARTERS Trade Leader may be published or reproduced without the express permission of the publisher. All rights reserved. Opinions expressed in CARTERS Trade Leader are not necessarily those of CARTERS or the publisher. No responsibility is accepted for the suggestions of the contributors or conclusions that may be drawn from them. Although the publisher has made every effort to ensure accuracy, the reader remains responsible for the correct selection of any tools, equipment, materials or systems followed, as well as the following of any laws or codes that may apply.